Julie Sutherland
Academic Coordinator, English
Contact
Biography
Julie Sutherland is the Academic Coordinator for English 324 and English 325 at Athabasca University. She holds an M.A. and Ph.D. in Seventeenth-Century Studies and English Studies from the University of Durham (UK). Her research and teaching interests include Shakespeare and Non-Shakespearean Renaissance Drama as well as Seventeenth-Century English Poetry and English Women's Writing. Her publications include articles on dramatic and non-dramatic literature in Early Modern England, a monograph on representations of women in Jacobean and Caroline drama and an edited collection (with C.H.L. George) on the creation and propagation of heroism and villainy in Early Modern Europe. She is also the contributing editor to Broadview Press's new edition of Shakespeare's Merchant of Venice (2014). Interested in dramatic literature in performance, Sutherland is actively engaged in professional and amateur theatre and is particularly dedicated to accessible productions of Shakespeare in public spaces. Sutherland is also Adjunct Professor in the Department of Letters and Literature at Cape Breton University.
Select Publications
2014 Merchant of Venice: Texts and Contexts. Editor. Broadview Press.
2013 " 'Never conquered nor possessed:' Female Theatre Professionals Present Post-  colonial / Québécois Canadian Shakespeare" in "No other but a woman's reason": Women on Shakespeare. Eds. Kujawinska Courtney and Kwapisz Williams. Peter Lang.
2012 " 'What beast is this lies wallowing in his gore?': The Indignity of Man and the Animal Nature of Love in The Sea Voyage." Modern Language Review 107.1 (Jan., 2012):    89-109.
2010 Women Who Wreak Havoc: A New Perspective on Early Modern Drama. Saarbrücken: VDM Verlag Dr. Müller.
2010 "Revolution and Counter-Revolution in Productions of Shakespeare." Romeo and Juliet Study Guide. UBC Department of Theatre and Film. Vancouver: UBC Press.
2007    "Alternative Communities: Utopia and Dystopia in Fletcher and Massinger's The Sea   Voyage." Literary Spectrums: Recent Studies in English Literature. New Delhi: Sarup & Sons: 1-20.
2006 "Shared Experience Theatre Company: Brechtian Revolution in London." The Literary Criterion. Mysore: University of Mysore Press: 161-67.
2004 Heroes & Villains: The Creation & Propagation of an Image. Eds. Julie Sutherland  and C.H.L. George. Durham: Centre for 17th Century Studies.
2004 "Victimised Villains and Vilified Victims: The Ambiguous Representation of Heroism and Villainy in Beaumont and Fletcher's The Maid's Tragedy" in Heroes & Villains: The Creation & Propagation of an Image. Eds. Julie Sutherland and C.H.L. George. Durham: Centre for 17th Century Studies: 21-32.
2002 "Obedience to the Inward Oracle: An Analysis of Some Early Quaker Women's Texts." Quaker Studies 6.2: 135-158.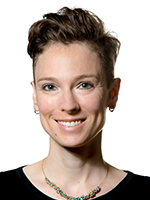 Coordinates
Updated February 10 2015 by Student & Academic Services